Ocean Freight Blankings Update
As COVID-19 continues to disrupt markets around the world, ocean carriers are reducing capacity and sailing speeds. With sailing options reduced and many scheduled departure and arrival times falling away, supply chain lead times are likely to increase.
At Stolt Tank Containers, we are working closely with carriers across the various alliances to offer our customers as much flexibility as possible, to help you to navigate issues caused by cancelled sailings and limited space. This webpage will be refreshed periodically with new numbers, information and visuals on our largest trade lanes. Insights on other trades can be provided on request, so don't hesitate to reach out!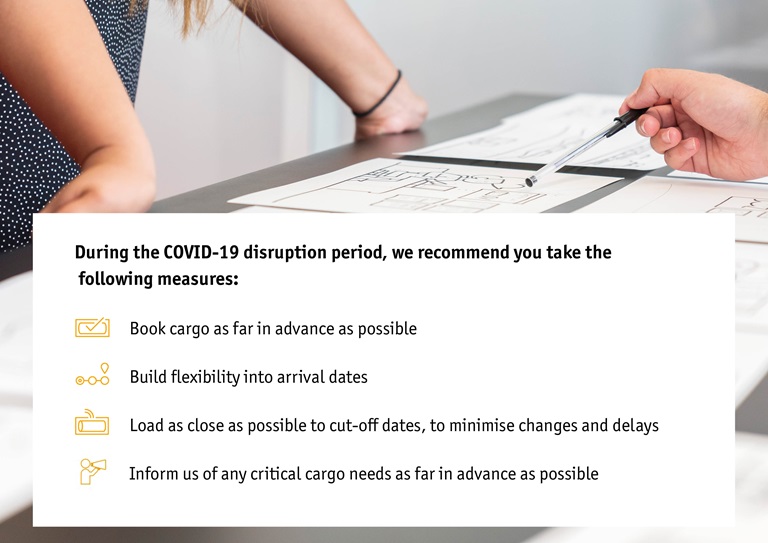 Global
It seems that the amount of blank sailings have reduced in almost all markets. We saw a peak in February and in May where 21% of global headhaul capacity was reduced. In July, this was 11% and for August this seems to be even less.
Even with more capacity being deployed, we continue to see a challenging ocean freight market. Space remains tight on many trades. Rates on the Transpacific Eastbound trade have hit record levels last week.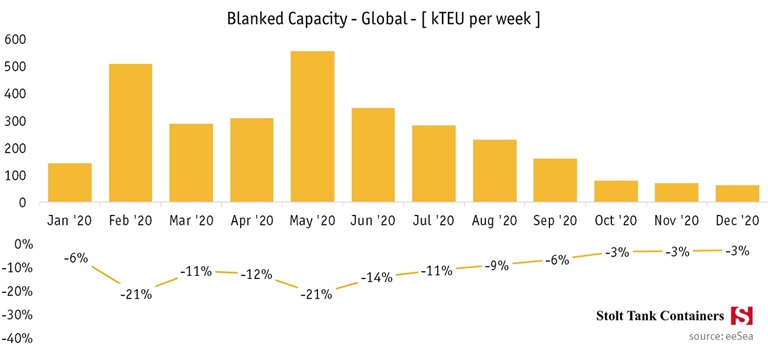 Asia to Europe


Following a peak in blank sailing post-Chinese New Year, we have seen continued blank sailings through March and April, and further increasing in May with 27% of trade capacity being removed in this month.
Since then, trade capacity has slowly returned to the market. July showed 18% of removed trade capacity.
Europe to Asia
Europe to Asia picture as below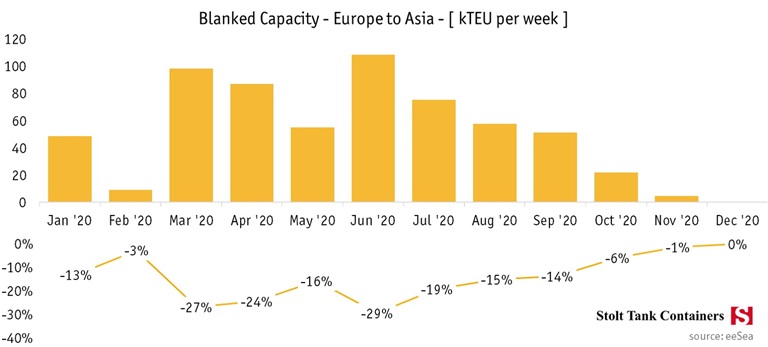 Transpacific


Asia to US West Coast


Capacity reductions as a result of blank sailings have been manageable on the Asia to US West Coast trade for a while, but blanked capacity has been on the rise ever since the post-Chinese New Year period in March. 19% of capacity was blanked during May. June showed 10% blanked capacity.
Since our last update, carriers have been "unblanking" sailings on this trade. And we actually see capacity coming back into market for Q3. The freight spot market has seen record numbers on this trade even with sailings coming back to the market. Demand seems to be very strong. It will be very interesting to follow this specific trade.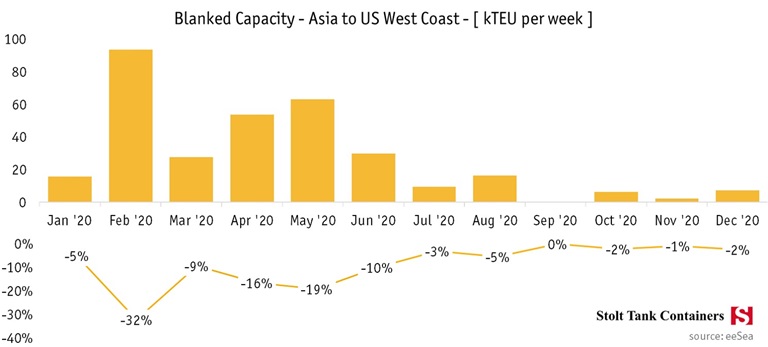 US West Coast to Asia


US West Coast to Asia picture as below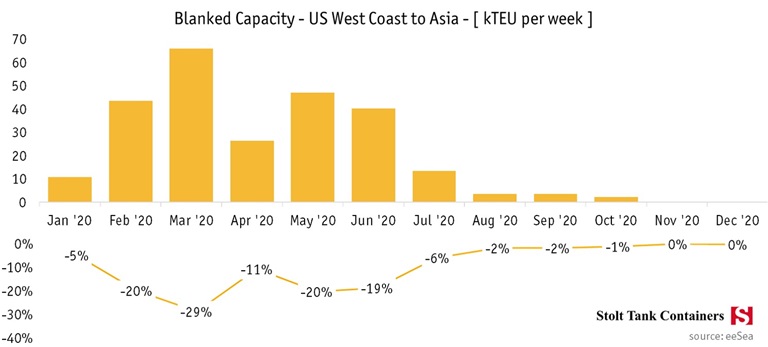 Asia to US East Coast


After a peak in May, it is clear that the number of blank sailings have reduced since June. July only showed 2% of total capacity being removed from the market. As with the Asia to USWC trade, spot rates have hiked over the last couple of weeks as demand has been strong.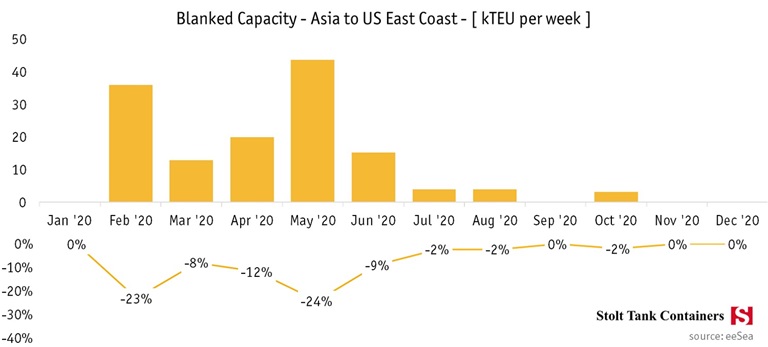 US East Coast to Asia


US East Coast to Asia picture as below.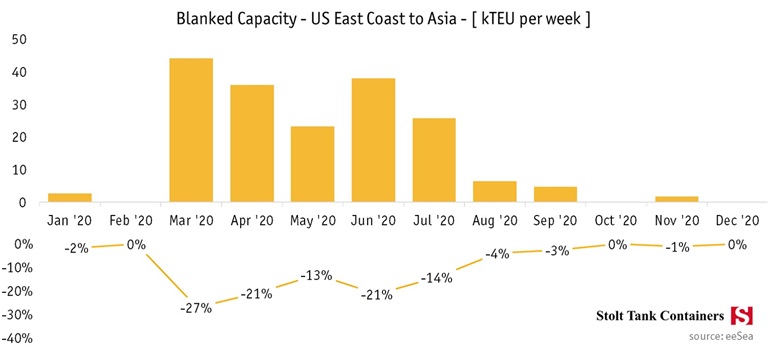 Transatlantic


Europe – US East Coast


We have not seen the same trend on the Transatlantic trade compared to the Transpacific or Asia - Europe trades. Throughout March and April, the number of blank sailing has remained relatively low. In April we saw 12% of trade capacity being blanked, going up to 19% in May. In June the number fell back to 12%.
And in July even to 7%.
We have however seen that there are now more blank sailings planned for August. Demand on the transatlantic trade seems to be down causing carriers to continue blank capacity.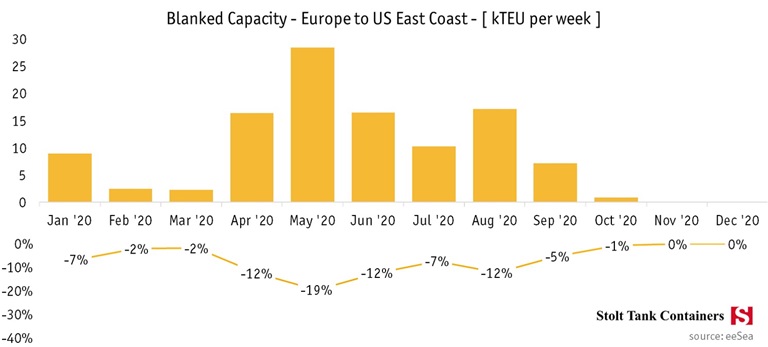 US East Coast - Europe


US East Coast to Europe picture as below.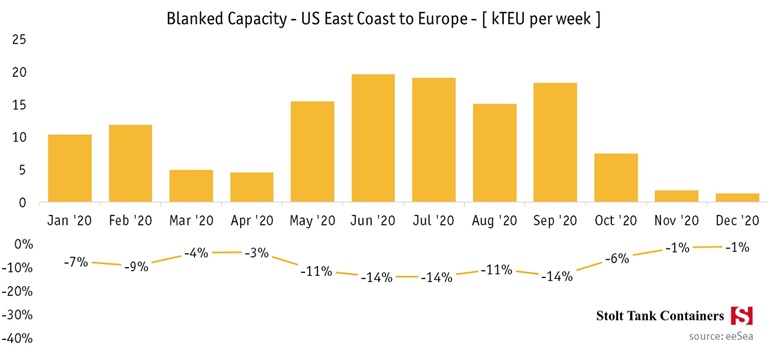 An overview of the 3 main shipping line alliances can be found below. Hyundai Merchant Marine (HMM) recently left their strategic cooperation with the 2M alliance and is now a full member of THE Alliance.
2M Alliance
APM-Maersk Group incl. Hamburg Süd

Mediterranean Shipping Company (MSC)
Ocean Alliance
CMA CGM Group
COSCO Group incl. OOCL
Evergreen
THE Alliance
Hapag-Lloyd

Ocean Network Express (ONE)

Hyundai Merchant Marine (HMM)

Yang Ming